FAKE DRUG MANUFACTURER ARRESTED IN INDIA
Detectives from TM Eye's Illicit Pharmaceutical Team working with Indian police have arrested a major manufacturer and supplier of fake 'life saving or life changing' medicines in India and recovered a large amount of counterfeit drugs, packaging, labelling, bar codes and bottles.
The raid action took place on 16 August 2017, at Rajalaxmi Building, M S Lane, S P Road, Bengaluru, India and follows a three-month pro active investigation by TM Eye into the sale of illicit medicines. The suspect Mani Kanta was arrested and remains in custody.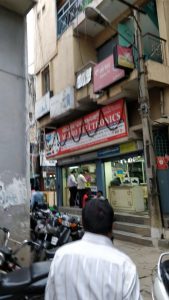 TM Eye undercover operatives purchased counterfeit medicines from KANTA on 8 August 2017. A subsequent surveillance operation identified his premises leading to the raid. Almost 10,000 counterfeit drugs and ancillary packaging were recovered from the premises.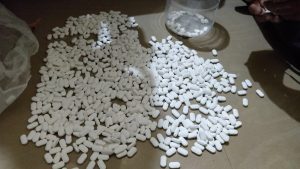 TM Eye Director David McKelvey said,"This raid action and arrest is another significant blow to the criminal gangs operating in India and involved in the sale and supply of falsified and illicit medicines world wide. TM Eye has been investigating criminal gangs in India for over 8 months and has seen huge success in recent months working closely and in partnership with Indian law enforcement. We have recently set up an office in Mumbai and have a team of experienced detectives working from there.
This second raid in Bangalore follows the recent success in arresting a major supplier in the same area and also taking out a major fulfilment house in Mumbai and recovering lorry loads of falsified drugs causing huge disruption to the RX Partners crime syndicate.
TM Eye has in the past 4 months taken down over 7,500 criminal websites operating world wide selling illicit medicines .
Our team in India work closely with our UK based Illicit Pharmaceutical Team to build the intelligence picture of global pharmaceutical crime.
TM Eye will build on its huge success in the Luxury Goods sector to impact on the sale and supply of illicit medicines."
FAKE DRUG KINGPIN ARRESTED IN INDIA
TM Eye detectives have smashed an organised criminal gang operating in Mumbai and Bangalore, India as part of its ongoing investigation into the sale and supply of illicit pharmaceuticals.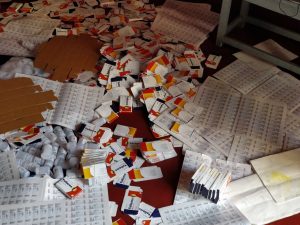 On 7 August 2017, TM Eye detectives working in partnership with Indian police, arrested Paresh PATEL in possession of a large quantity of fake medicines, packaging and labels. The arrest and raid of premises in Bangalore follows at 4-month covert investigation by TM Eye's Illicit Pharmaceutical Team into the open sale of fake 'life changing and or saving' drugs being sold worldwide by criminal gangs. TM Eye undercover operatives purchased fake medicines from PATEL in India throughout May and June 2017. Surveillance identified premises and PATEL was arrested at these premises. PATEL has been charged and remanded in custody.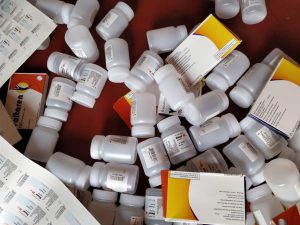 TM Eye Director David Mckelvey said," This arrest and raid follows on from the recent success in identifying, searching and seizing a vast amount of illicit medicines in the Kandavali region of Mumbai, as part of the the investigation into the RX Partners criminal empire. 
PATEL ran a criminal network that manufactured and printed high quality fake packaging, labels and bar codes. They then printed up medicine bottles and used either counterfeit or sub standard generic medicines to trick sick and unwell persons into believing they were purchasing genuine products. The risks cannot be over stated and this activity puts lives at real risk.
TM Eye now operates across the Indian sub continent and has a local office in Mumbai from where operational activity is run.
TM Eye is tackling this organised criminality and will continue to target those who put the most vulnerable in our world at risk. PATEL will be charged and remanded in custody. TM Eye will seek to identify the proceeds of these crimes and with the assistance of the Indian authorities confiscate them.
We would like to thank the Indian police for all their support."
TM Eye operates across the globe and has teams of highly experienced detectives tackling the illicit supply of pharmaceuticals, luxury goods and tobacco. TM Eye brings private criminal prosecutions in the UK against those selling fake goods and has a 100% conviction rate in over 320 criminal cases.
TM Eye has a conventional surveillance team and has the only covert undercover unit outside of law enforcement that daily deploys highly experienced and skilled undercover operatives to gather evidence against the criminal gangs involved.