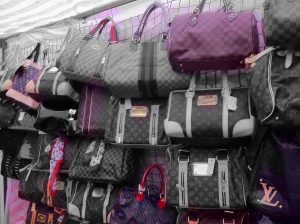 Two men were arrested at Camden Market by police in a joint operation with TM Eye detectives on 14 June 2017. The two men who operated separate shops in the High Street were arrested for immigration offences and taken to Holborn police station for processing.
The arrests follow an earlier arrest of a suspect for rape as a result of Operation Prefix. Operation Prefix is TM Eye's enforcement action against the sale of illicit goods in and around Camden Market. To date TM Eye has convicted 35 criminals for over 200 criminal offences for selling counterfeit goods at Camden Market. Other suspects have been identified and deported for Immigration matters.
All those convicted have their fingerprints, photographs and DNA taken and the convictions are recorded on the Police National Computer.
TM Eye Director David McKelvey said,"TM Eye are actively gathering evidence of crimes that involve our clients brands. Those who sell fake goods that impact on those brands will be prosecuted in the criminal courts."
TM Eye has a 100% conviction rate in over 300 private criminal prosecutions.