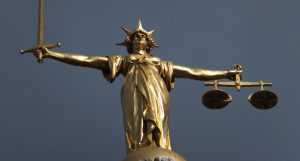 On Monday 30 July 2018, six men from the Manchester area were served with criminal summons in relation to the sale and supply of large numbers of fake goods in the area known as 'Counterfeit Street'.
The criminal summons were served as part of the Enforcement Action of Phase Four of TM Eye's Operation MORDOR. The men were served at the premises used for their criminality in Strangeways with the assistance of Greater Manchester Police.
Over sixty (60) criminals have been convicted to date as a result of Operation MORDOR. Ten (10) of those convicted have received custodial sentences.
Phase Four of Operation MORDOR commenced in March 2018 and targeted the block between Great Ducie Street and Sherbourne Street on Bury New Road, Manchester. This had been identified as problematic over a period of time. Twenty four (24) premises or separate units were identified within that single block. These were heavily fortified with steel shutters operated by guards with fobs, some premises were covered in steel plate with a vacuum entry system, spotters on the street and roofs with radios and mobiles and a system of whistles that are used to close down the area when law enforcement or TM Eye are believed in the vicinity. Each premises was visited by TM Eye undercover operatives supported by our in house surveillance team and cover officers.
TM Eye Director David Mckelvey said,"All these suspects have been evidenced selling fake goods and at least three individual test purchases have been done from each suspect all recorded on covert camera. In total there are thirty five (35) suspects against whom evidence exists. To date nineteen (19) have been identified and await prosecution by way of private criminal prosecutions (PCP's). Fifteen (15) have already been served with criminal summons. They will appear at Manchester Magistrates Court on 3 August 2018, 21st August 2018, 31st August 2018 and 6th September 2018. The remaining suspects identified are in the process of having summons served or being issued. We anticipate that all criminal summons will be issued by the court and served by the end of August."
All those convicted will have their fingerprints, photographs and DNA taken by police. All TM Eye convictions are recorded on the Police National Computer (PNC) as a result of an Information Sharing Agreement in place with The Association of Chief Police Officers Criminal Records office (ACRO).
TM Eye works closely with Greater Manchester Police, Manchester City Council and Trading Standards, the Intellectual Property Office Intelligence Hub and Operation Titan and has been instrumental in tackling criminality in 'Counterfeit Street' at the 'coal face'.