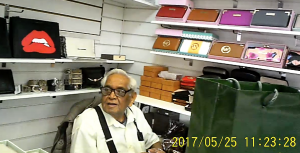 The owner of the warehouse premises Navinbhai PATEL
Three men appeared at Manchester and Salford Magistrates Court  on 20th April 2018, charged with offences under Section 92 of The Trademarks Act 1994, for selling counterfeit goods from their premises in Harris Street, Manchester, an area known as 'Counterfeit Street'.
The men, Navinbhai PATEL of Cranbrook Gardens, Ashton-Under-Lyne, OL7 9AA, Jamal MAHMOOD of Albermarle Street, Ashton-Under-Lyne, OL6 9NG and Jawed RAJAZBADA of Cheetwood Road, Cheetham Hill, Manchester, M8 8AQ, all pleaded guilty.
Jamal MAHMOO                                                         Jawed RAJAZBADA
PATEL was sentenced to 8 weeks custody suspended for 2 years, ordered to pay £300 costs and a £115 victims surcharge.
Mahmood was sentenced to a 12 month Community Order with a requirement to undertake 200 hours unpaid work and an £85 victims surcharge.
RAJAZBADA was sentenced to a 12 month Community Order with a requirement to undertake 120 hours unpaid work, a Rehabilitation Activity Requirement and ordered to pay £230 costs and an £85 victims surcharge.
The case was brought by TM Eye as a private criminal prosecution on behalf of its clients Pandora, Mulberry, Apple and another well known luxury brand. The gang sold a wide variety of other fake goods from other brands. These formed no part of the prosecution by TM Eye. The allegedly fake goods were not seized at the request of the brands.
The conviction of the three men follows Phase 3 of TM Eye's Operation MORDOR tackling organised crime in and around the area of Manchester known as 'Counterfeit Street'. TM Eye undercover detectives supported by the TM Eye surveillance team undertook a series of covert test purchases from the defendants at the premises in Harris Street, between 16th February 2017 and 27th September 2017. Each test purchase was covertly recorded on film and formed the basis for the prosecution and convictions.
The premises were owned and controlled by PATEL, who had recently been previously cautioned for similar offences by law enforcement. The premises were protected by a guard at the door in possession of a fob to close steel shutters at the sign of any enforcement activity and by spotters on the street.
On 27th September 2017, TM Eye detectives supported by Greater Manchester Police succeeded in entering the premises before the guard had the opportunity to close the steel shutter. PATEL admitted his criminality at the scene and a vast amount of fake goods were seized from the premises. A large number of counterfeit Beats headphones, Mulberry bags, Louis Vuitton bags and Pandora jewellery was seized and the court ordered forfeiture and destruction. No order was made in relation to other branded goods seized.
TM Eye Director David McKelvey said,"This is yet another fantastic success in the ongoing TM Eye operation targeting those organised criminals who sell fake goods in and around the area of Manchester known as 'Counterfeit Street'. These convictions and custodial sentences send a strong message to those involved that they risk imprisonment should they re offend.
Over fifty criminals have been convicted by TM Eye in the recent years as part of Operation MORDOR having a dramatic impact on the open sale of the brands that TM Eye represents. It is unfortunate that other brands do not take such a robust attitude to the criminality taking place openly in Manchester. Their failure to take action leaves those criminals involved with the impression that selling fake goods is acceptable.
TM Eye has seen a marked reduction in the open sales of the speciic brands it represents in all markets as the criminals recognise they risk prosecution, conviction and a prison sentence."
TM Eye has convicted over 420 criminals in the past two years and has a 100% conviction rate. All those convicted have their DNA, fingerprints and photographs taken and recorded on both police indices and the Police National Computer (PNC).