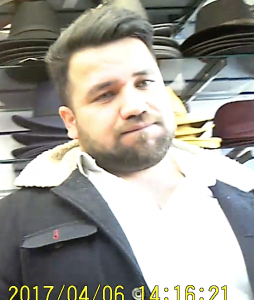 Mohammed Asif YOUSOFZAI of Havelock Road, Luton, LU2 7PP, appeared at Luton Magistrates Court today (18 July 2017), charged with four offences of selling counterfeit goods contrary to Section 92 of the Trademarks Act 1994. He pleaded guilty to all matters. He was sentenced to a Community Order to undertake 120 hours unpaid work, ordered to pay £85.00 victims surcharge and £1,650 (one thousand six hundred and fifty pounds) towards the costs of the investigation. This is his second conviction in 9 months for similar offences.
The case was brought as a private criminal prosecution by TM Eye on behalf of its clients Louis Vuitton Malletier and Apple inc.
YOUSOFZAI operated a criminal business selling a wide variety of fake goods from a shop at 285 Camden High Road, London, NW1. TM Eye detectives and undercover operatives from the TM Eye Covert Undercover Unit, gathered evidence of his criminality over a period of weeks during operation Prefix at Camden in North West London. Test purchases of  fake goods took place on 6 April 2017 of a counterfeit Louis Vuitton bag, 13 April 2017 of a fake Louis Vuitton belt and on 14 April 2017 of a fake Apple iPhone cover.
YOUSOFZAI will now have his conviction recorded on the Police National Computer (PNC) and have his fingerprints, photograph and DNA taken by police. Should he re offend he will likely face imprisonment.
TM Eye Director David McKelvey said,"TM Eye has convicted over forty (40) criminals selling fake goods in and around the Camden area and market in recent years. It has had a  dramatic impact on the overt sale and supply of fake goods for the brands that we represent. Those who choose to sell fake goods that impact on our clients will be robustly investigated and prosecuted in the criminal courts where evidence exists.
Operation Prefix is the latest TM Eye operation taking place in Camden and will result in a series of new criminal prosecutions and convictions. TM Eye has a 100% conviction rate in over 350 criminal cases.
This is the second time that TM Eye has prosecuted this man for selling counterfeit goods from these same premises. In December 2016, he was convicted of four offences of selling fake Ray Ban sunglasses damaging our client Luxottica Group SA. He was sentenced to a fine of £80.00.  He continued to re offend and evidence was gathered of his further criminality.
Should he continue to commit offences we will again prosecute. He then risks imprisonment."