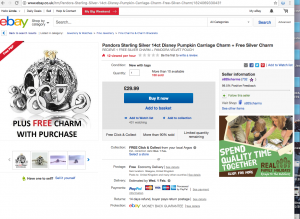 Stephen BAYNHAM from Glasgow appeared at Chelmsford Magistrates Court on 22 June 2017 charged with three criminal offences of selling counterfeit Pandora jewellery contrary to Section 92 of The Trademarks Act 1994. He pleaded guilty to all matters and was sentenced to 100 hours Community Service Order.
The case was brought by TM Eye as a private criminal prosecution on behalf of its client Pandora Jewellery.
BAYNHAM operated a large scale business selling fake Pandora jewellery on the auction site E Bay using the name 's925 charms'. TM Eye online investigators carried out three separate covert test purchases on 27 January 2017, 24 February 2017 and 2 March 2017. All items were identified as fake. The evidence was used to bring the successful criminal prosecution.
TM Eye Director David McKelvey said,"Baynham operated on Bay selling large numbers of fake charms to unknowing members of the public. He caused financial loss to our client Pandora and damaged the brand. Many of these fake charms have highly toxic and dangerous elements such as lead and nickel that when worn against the skin can cause illness, some are carcinogenic. 
TM Eye will always prosecute those who sell fake Pandora jewellery.
Baynham now has a criminal conviction which will be recorded on the Police National Computer (PNC) and he will have his fingerprints photograph and DNA taken. Should he re offend it has been made clear by the court that he risks going directly to prison."
TM Eye has a 100 % conviction rate in over 300 private criminal prosecutions.
.