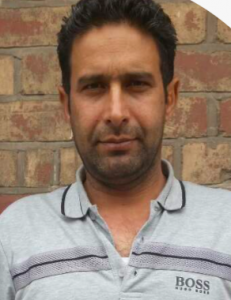 RIASAT ALI of Greenstead Street, Cheetham Hill, Manchester, appeared at Manchester and Salford Magistrates Court today, charged with eight (8) offences under Section 92 of the Trademarks Act 1994. He pleaded guilty to all matters. He was sentenced to 16 weeks immediate custody. A previous suspended sentence was activated and an additional four (4) weeks imprisonment to be served consecutively was ordered. Riasat ALI will go to prison for 20 weeks.
The case was brought by TM Eye as a private criminal prosecution on behalf of a number of its clients, including HUGO BOSS.
The case was brought as part of TM Eye's ongoing covert investigation, Operation MORDOR, into the Strangeways area of Manchester, known as ' Counterfeit Street'.
Riasat ALI had been originally been convicted by TM Eye  in January 2016, of selling fake goods at a warehouse premises at 13 Bury New Road, Manchester. The case had been brought by TM Eye as a private criminal prosecution on behalf of a number of its clients. The premises were raided by Greater Manchester Police and TM Eye detectives on 18 December 2015, and over £1 million worth of fake goods were seized. ALI sold a wide variety of fake goods from brands including; ADIDAS, NIKE, NORTH FACE, MONCLER, BURBERRY, CANADA GOOSE, CHANEL, JIMMY CHOO, MULBERRY, GUCCI, MIU MIU, D&G, STONE ISLAND and many others.
TM Eye detectives identified that ALI continued to sell fake goods despite having been served with a criminal summons, his premises having been searched and even after being convicted and sentenced to a suspended prison sentence. As a result TM Eye carried out a series of new evidential test purchases from him at his premises,13 Bury New Road. On 16 February 2016, 24 June 2016, 19 July 2016, 20 July 2016 and 2 August 2016, a variety of fake goods were purchased. All were recorded covertly by TM eye undercover operatives. This evidence supported todays conviction.
TM Eye Director David McKELVEY said,"This is another outstanding result. The court have sent a strong message to those criminals who continue to operate in the area of Strangeways, known as 'Counterfeit Street', that their criminal activities will not be tolerated any longer. Riasat ALI is the first of a number of criminals already convicted who chose to ignore the law and will be prosecuted again by TM Eye. TM Eye will robustly protect its clients brands.
ALI operated a sophisticated and well established criminal operation. He had 'spotters' on the door of his warehouse to tip him off about any police or trading standards activity, as well as an expensive CCTV system to cover the street and door area. If he became concerned he locked customers in the premises and used secret routes to escape out the back. Although police and TM Eye filled a 40 foot lorry with seized fake goods on 18 December 2015, during a search of his premises, part of Phase 1 of operation Mordor, he was able to re stock within days and was trading almost immediately. He was trading throughout his appearance at court in January 2016.
In order to protect our clients brands TM Eye again targeted ALI from February 2016. He is the first of a number of persons who are appearing at court or are about to be served with criminal summons as part of Phase 4 of Operation Mordor.
TM Eye is now working closely with Manchester City Council and Greater Manchester Police (GMP) to clean up 'Counterfeit Street' and protect the public from these organised criminal gangs". This criminality is highly profitable and is directly linked to immigration offences, human trafficking, human slavery, organised crime and terrorism.
I would particularly like to thank PS Darren THOMASEN and DCI Chris MOSSOP from Greater Manchester Police for their help and assistance. This is an excellent example of partnership work"
All those convicted by TM Eye have their convictions recorded on the Police National Computer (PNC) as a result of an MOU with the Association of Chief Police Officers Criminal records Office (ACRO).
All have their biometric data, fingerprints, photographs, DNA and antecedents recorded as a result of an MOU with Greater Manchester Police (GMP). Recently eleven (11) convicted suspects from operation MORDOR were rounded up and taken to the police station to have their fingerprints and DNA taken.
To date TM Eye has convicted twenty one (21) criminal traders, by way of private criminal prosecutions, as part of operation MORDOR, for selling or possessing fake goods for sale in the area known as 'Counterfeit Street'.