A five-month major covert operation by TM Eye's Illicit Pharmaceutical Team has resulted in the seizure of a significant amount of falsified medicines in Mumbai, India.
The joint raid with officers from the Indian Food and Drugs Administration (FDA) at a number of warehouse premises within the Gundecha Industrial Estate, Akurli Road, Kandivali East Mumbai, took place on Tuesday 11th July 2017. The Indian FDA seized over 200 boxes of illicit medicines. Prosecutions under Section 18 of the Indian Drugs and Cosmetics Act 1940 will follow.
The result follows a global investigation by TM Eye into the organised criminal network involved in the worldwide supply of illicit medicines through the RX Partners crime group. TM Eye detectives from their dedicated Illicit Pharmaceutical Team identified over 45,000 live criminal web sites selling falsified 'lifesaving' medicines. The group openly advertise for 'affiliate members' who purchase domains and set up live web sites offering prescription only medicines for sale worldwide. The criminal gang supplied templates and payment methods for the affiliate sites. Customers using the affiliate sites were re directed to the criminal gangs 'anchor sites' to order medicines and make payment. Innocent customers, often those seriously ill were encouraged to buy 'cut price' lifesaving drugs on the sites, believing them to be genuine medicines from reputable pharmaceutical companies. In reality they were sold fake or poor quality generic products that are either dangerous or of no medicinal use.
The genuine lifesaving medicines sold by the Pharmaceutical companies are priced to reflect the huge research and production costs. The criminal gangs used images of these genuine products on their web sites but then supplied counterfeit or sub standard generic medicines, which often cost one hundredth of the true cost. They removed and destroyed any identifiable packaging at the 'fulfilment house' before posting out the illicit medicines in plain brown envelopes containing simple blister packs of pills purporting to be genuine.
TM Eye identified Dada Impex as one of the RX Partners crime group's 'fulfilment houses' and commenced surveillance on the premises and their owners. Evidence gathered was presented to the Indian FDA and the raid took place as a result.
TM Eye has during the same period 'taken down' over 7,000 live criminal web sites operating on behalf of the RX Partners crime group, selling falsified medicines.
TM Eye Director David McKelvey said, "The loss to the pharmaceutical industry worldwide is estimated at over £200 billion, with the associated loss in tax revenues and the significant dangers to  public health and risk of death.
TM Eye set up its Illicit Pharmaceutical Team in January 2017, following on from the success of its enforcement work against those involved in the supply of fake luxury goods. We now have three separate teams investigating illicit goods in three sectors; Tobacco, Pharmaceutical and Luxury Goods, supported by an online investigations team, undercover unit and full conventional and technical surveillance teams.
The investigation into the activities of RX Partners crime group has identified organised crime on a scale that we have not previously seen, with links across the globe, working towards a common criminal objective. The criminal profits involved are vast.
The impact on the global economy in terms of lost revenue through taxes and the damage and loss to the pharmaceutical companies is significant. TM Eye investigations focus on 'lifesaving' prescription only medicines (POM). Those who are often seriously ill or desperate often search online for drugs to help them. These criminal gangs use that desperation to fraudulently sell fake or sub standard generic medicines to those poor individuals. The drugs they sell often contain little or no active ingredient and can be harmful and sometimes lethal.
We would like to thank the Indian Food and Drug Administration for their prompt action in tackling this criminality and disrupting the activities of Dada Impex and the global criminal network RX Partners".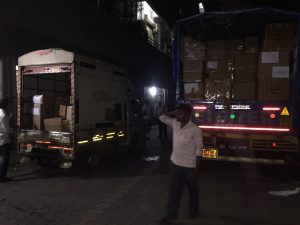 Two lorries laden with illicit medicines seized during raid at Dada Impex