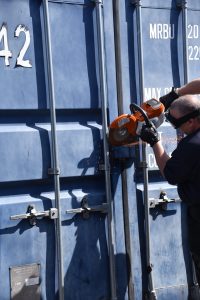 On Tuesday 17th April 2018, TM Eye's detectives in partnership with the Metropolitan Police Service raided a unit at Orbital Secure Storage in Argon Road, Chingford, London, E4. A vast amount of fake goods was recovered including watches, jewellery, leather goods, bags, purses, belts and over 60,000 badges and decals for a wide variety of luxury goods brands. The combined value of goods and loss to the various brands involved is estimated in excess of £5 million.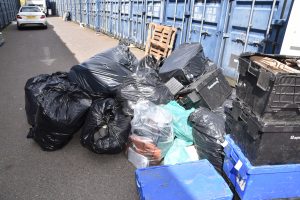 Whilst the raid was taking place TM Eye's surveillance team and a number of their detectives identified five suspects at addresses across London and Essex and served criminal summons for Conspiracy to Sell Counterfeit Goods. The suspects appeared at St Albans Magistrates Court on Wednesday 25th April 2018, where they were remanded to the Crown Court for trial or sentence.
The case is being brought by TM Eye as a private criminal prosecution on behalf of a number of its luxury goods clients including; Mulberry, Jimmy Choo, Apple and another well known luxury goods brand.
TM Eye have been investigating this organised criminal network for several years. They are suspected of operating a number of stalls at Bovingdon market each Saturday, over many years, selling counterfeit goods. They also have shop premises in Walthamstow that operate daily allegedly selling fake electrical goods.
The vast number of badges and decals suggest that they ran a huge manufacturing operation taking unmarked bags and using the badges to produce fake goods.
The principal gang members used juveniles to sell goods on their stalls to avoid prosecution. Enquiries are being made to establish whether these youths had been trafficked into the UK and forced to operate the stalls.
The TM Eye operation codenamed Bilbo commenced 8 months ago and has involved surveillance and regular deployments of undercover investigators from TM Eye's Dedicated Undercover Unit. Evidence and intelligence highlighted the sophisticated structure and criminal behaviour of the gang.
TM Eye Director David McKelvey said,"This was an outstanding piece of work and has resulted in the private criminal prosecution of some of the most prolific suspects operating at Bovingdon market in Hertfordshire. This will make a real impact on the open sale of counterfeit goods, particularly those brands that we protect.
We would like to thank the Metropolitan Police for their support and assistance in bringing this investigation to a successful conclusion, leading to the recovery of large numbers of fake goods".
TM Eye has prosecuted over 400 criminals by way of private criminal prosecutions and has a 100% conviction rate. All those convicted have their fingerprints, photograph and DNA taken and placed on police databases.