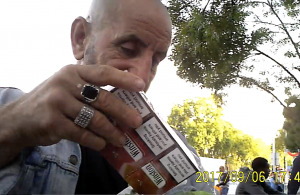 A man from Tottenham has been jailed for 40 weeks by Thames Magistrates.
Nish SHAWKAT appeared on 21st February 2018 at Thames Magistrates Court for ten (10) offences of selling illicit tobacco contrary to The Tobacco and Related Products Regulations 2016 and The Standardised Packaging of Tobacco Products Regulations 2015. He pleaded guilty to all matters and was sentenced to four (4) weeks imprisonment on each count, totalling 40 weeks. He was further sentenced to a 12 month Supervision order and required to pay a Victims Surcharge of £115.00.
The case was brought by TM Eye as a private criminal prosecution.
The prosecution follows a 6 month covert investigation into the activities of Nish SHAWKAT selling illicit tobacco in and around the Haringey area. He operated a team of sellers at the entrance to Seven Sisters Road station and at a local car boot sale. He sold vast amounts of illicit tobacco including 'Amber Leaf' and 'Golden Virginia' rolling tobacco and 'Winston' cigarettes, some of which was counterfeit.
TM Eye undercover operatives supported by surveillance operatives undertook covert test purchases on 6th September 2017, 10th September 2017, 18th October 2017 and 1st November 2017. SHAWKAT had 'spotters' deployed to identify law enforcement and hid a large amount of illicit tobacco in fridges on sale on the pavement in a nearby electrical shop in Seven Sisters Road. He left samples of the goods for sale on a box in the middle of the pavement. Prospective buyers would wait by the box until SHAWKAT had ensured that it was safe to approach them. He would then take the order and go to the 'stash' and return with the illicit tobacco which would then be sold. This was all evidenced on covert filming by the TM Eye operatives. The evidence gathered by TM Eye was overwhelming and led to the prosecution and convictions.
TM Eye Director David McKelvey said,"The prosecution and conviction of SHAWKAT by TM Eye by way of a private criminal prosecution is innovative and shows that options exist for the Tobacco Companies to robustly enforce the law to prevent and deter offending and bring criminals to justice.
This is the first prosecution of its kind brought by  way of a private criminal prosecution. The result shows that the Courts take such offending very seriously.
The damage and loss of revenue to both Tobacco Companies and the Government because of illicit tobacco sales is huge. The damage to public health through the sale of counterfeit tobacco is significant.
TM Eye will now play its part in protecting the public from the organised criminals involved and this case provides the basis upon which we can do so
I would like to thank the Police at Haringey for their assistance in bringing SHAWKAT to justice".
TM Eye has prosecuted over 400 cases in the criminal courts by way of private criminal prosecutions and has a 100% conviction rate.