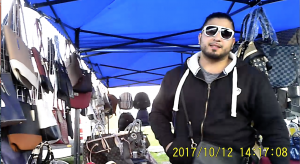 Achmad Shabir GHORASHI of The Broadway, Wembley, London, HA9 8JT, appeared at Willesden Magistrates Court on 27 February 2018, charged with three (3) offences of selling counterfeit goods contrary to Section 92 of The Trademarks Act 1994. He pleaded guilty to all matters. He was sentenced to a £600 fine and required to pay a £30 Victims Surcharge.
The case was brought by TM Eye as a private criminal prosecution on behalf of one of its luxury goods clients.
The case follows a 6-month covert investigation by TM Eye detectives at Kempton Park Market. GHORASHI operated a substantial stall selling a large amount of fake handbags, purses, belts and leather goods from a wide variety of luxury brands including Michael Kors, Chanel, D&G, Chloe, Burberry, Gucci, Stella McCartney, Ted Baker and many others.
TM Eye undercover operatives supported by a TM Eye surveillance team evidenced GHORASHI selling fake goods on the 12th October 2017, 19th October 2017 and 26th October 2017. Three test purchases were undertaken and each was covertly recorded on video. This evidence led to the prosecution and conviction.
In the course of the test purchases GHORASHI stated that he would never sell fake MULBERRY goods as TM Eye protected that brand. He stated that the ONLY person he is afraid of 'is TM Eye' and that they would 'hunt you down, hunt you down' if they found anyone selling fake MULBERRY goods. He offered a variety of other fake goods which are not protected by TM Eye including CHANEL and MICHAEL KORS stating he could sell these as TM Eye did not protect them.
Unfortunately for GHORASHI, he sold TM Eye undercover operatives a number of counterfeit goods from another one of TM Eye's clients. TM Eye immediately prosecuted him.
TM Eye Director David McKelvey said,"GHORASHI operated a vast stall selling huge numbers of fake goods every week at Kempton Park Market. He avoided brands he knew were protected by TM Eye and commented how he and other stall holders 'fear' TM Eye.
GHORASHI had made the mistake of not carrying out his research thoroughly and TM Eye detectives evidenced him selling another one of our clients brands. TM Eye contacted representatives for other brands including Michael Kors but were told that no action would be taken or support given to TM Eye's private criminal prosecution.
GHORASHI no longer sells fake goods of brands that TM Eye protects although he continues to openly sell other fake goods for brands who do not robustly protect their IP Rights."
The conviction of GHORASHI is now recorded on the Police National Computer (PNC) and he will be required to have his fingerprints, photo and DNA taken for police indices.
The video of GHORASHI commenting on TM Eye can be seen at https://www.youtube.com/watch?v=npLo9KPdK5a