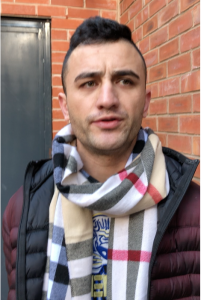 Mohammed Meer Amaam Berdi of Clarendon Road, Whalley Range, Manchester, M16 8LD, appeared at Manchester and Salford Magistrates Court on 1st March 2018, charged with four offences of selling counterfeit goods contrary to Section 92 of The Trademarks Act 1994. He pleaded guilty to all matters. He was sentenced to a fine of £120.00 and ordered to pay a £30 Victims surcharge.
The case was brought by TM Eye as a private criminal prosecution on behalf of its client MULBERRY.
The prosecution and conviction is the latest result in the ongoing TM Eye operation codenamed MORDOR tackling the open sale of fake goods in and around the Strangeways area of Manchester known as 'Counterfeit Street'.
BERDI known locally as 'MERRKAT' operated a huge warehouse premises in Harris Street, Manchester, that had three separate rooms full of every conceivable type of fake goods. He sold perfume, trainers, handbags, purses, belts, clothing, shoes, watches, jewellery, make up and other goods from a wide variety of luxury goods brands. The value of goods on sale was significant.
The premises were protected by a steel shutter operated by a fob controlled by BERDI and internally a huge steel door with multiple locks to prevent access by law enforcement. Spotters and security protected the premises.
The case follows Phase Three of Operation Mordor. TM Eye undercover operatives supported by TM Eye surveillance teams,undertook four covert test purchases of fake MULBERRY goods from BERDI at the premises in Harris Street. Each was evidenced on film and led to the prosecution and conviction of BERDI.
TM Eye Director David McKelvey said, "I am very disappointed by this sentence of the court. BERDI or 'MEERKAT', as he is known, was a prolific criminal operating in these vast premises in Harris Street. He was selling huge numbers of fake goods often on a wholesale basis. The counterfeit goods in the premises if real would be worth millions of pounds. He was clearly making a significant profit from his criminality.
The sale of illicit goods is evidenced as directly funding organised crime and terrorism and the losses to UK and European companies is substantial. The criminals involved do not pay tax and their criminal proceeds generate more crime in these areas.
At least now BERDI has a criminal conviction which is recorded on the Police National Computer. Should he re offend we hope that the court will take his continuing criminality seriously and lock him away."
TM Eye has convicted over 400 criminals by way of private criminal prosecutions in recent years and has a 100% conviction rate. Over 12 % of those convicted have received a custodial sentence.