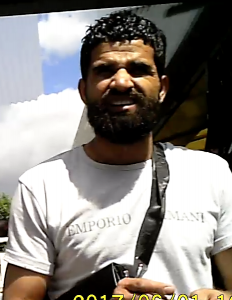 Matti ULLAH of Blundell Road, Burnt Oak, Edgeware, London, HA8 0HZ, appeared at Highbury Corner Magistrates Court on 27 September 2017, charged with four (4) offences of selling and possessing counterfeit goods for sale contrary to section 92 of the Trademarks Act 1994. He pleaded guilty to all matters. ULLAH was sentenced to a 6 week prison sentence suspended for two years and a requirement to undertake 200 hours of unpaid work.
The case was brought by TM Eye as a private criminal prosecution on behalf of its clients MULBERRY and another well known luxury goods brand.
The conviction is the latest in a series resulting from Operation PREFIX, a TM Eye investigation into the sale of fake goods in and around the Camden area. TM Eye works closely with Camden police in tackling the open sale of illicit goods and has seen dramatic reductions in the availability of counterfeit goods for the brands it represents.
ULLAH had previously been convicted of eight (8) offences of selling counterfeit goods by TM Eye in another private criminal prosecution at Highbury Corner Magistrates Court on 27 May 2016. On that occasion he received a Conditional Discharge.
ULLAH will now have his conviction recorded on the Police National Computer and be required to have his fingerprints, photograph and DNA taken. Should he re offend he will be sent to prison.
TM Eye Director David McKelvey said,"ULLAH has been convicted of selling fake Mulberry and some of our other clients goods at shop premises at 216 Camden High Road. This is the second time TM Eye have convicted him. He now risks imprisonment if he re offends. TM Eye will always prosecute and bring to justice those who commit these criminal offences that impact on our clients brands.
TM Eye's robust enforcement activities have seen significant reductions in counterfeit goods impacting on our clients brands in the Camden area. Simply put the criminal traders involved will not risk a conviction or imprisonment. It is a great pity that other Rights Holders do not use such impactive measures to protect their Intellectual Property Rights and stop the sale of fake goods in Camden. The use of Cease and Desist letters does not work and raids simply stop offending for that day. The only enforcement activity that has a real impact is prosecution in the criminal courts.
TM Eye will continue to robustly protect its clients brands to 'prevent and deter' offending."
TM Eye have convicted over forty (40) criminal traders for over 225 offences of selling fake goods in the Camden area as a result of Operation PREFIX.