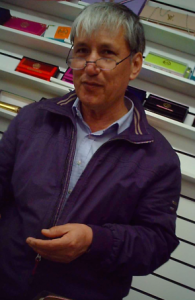 TM Eye has secured another conviction as a result of its covert infiltration investigation in the Strangeways area of Manchester, known as 'counterfeit street'. Twenty (20) principals involved in the large scale sale and distribution of fake goods in the area and across the UK have now been convicted as a direct result of TM Eye's Operation Mordor.
Gol Ahmed NAZARI (date of birth 21 04 1956) of Woodlands Road, Manchester, M8, appeared at Manchester and Salford Magistrates Court on 19 September 2016. He had pleaded not guilty to six (6) offences of selling counterfeit leather goods. After a short trial he was found guilty on all matters. He was sentenced to a 12 month Community Order, to include 200 hours unpaid work and ordered to pay £500 towards the prosecution costs. A £60 victims surcharge was imposed.
The conviction is the the result of a private criminal prosecution brought by TM Eye on behalf of Mulberry, Jimmy Choo, Superdry and other clients.
NAZARI operated from premises in Harris Street, Manchester, selling a vast number of fake goods from a wide variety of luxury brands. TM Eye undercover operatives attended on 10 September 2015 and 29 October 2015 and covertly filmed NAZARI selling the fake goods. The convictions are based on that evidence.
TM Eye director David McKelvey said, "TM Eye's covert operation codenamed MORDOR has been a huge success. Our undercover operatives infiltrated the area where this organised crime takes place for 6 months in 2015, and were able to evidence a number of the principals, in the area, who run the trade in fake goods. Twenty nine (29) suspects were evidenced operating from twenty three (23) premises. To date twenty (20) of those criminals have been convicted by TM Eye as a result of private criminal prosecutions brought by the company on behalf of its clients.
There has been a dramatic impact and for the first time the fear of being caught and convicted is a reality for these organised criminals.
TM Eye is now working closely in partnership with Manchester City Council and Greater Manchester Police (GMP) to tackle the remaining criminal gangs still operating in the area. Manchester City Council has recently been successful in closing down a number of the shops selling fake goods using their powers as Landlords.
TM Eye will continue to prosecute the remaining suspects and will catch and convict anybody who continues to sell fake goods that impact on our clients brands.
All those convicted now have their convictions recorded on the Police National Computer and a day of action will take place shortly with GMP to take the fingerprints, DNA, photographs and antecedents of them all."
TM Eye has convicted over 220 persons in the past two years for selling fake goods across the UK and online.
All those convicted have their convictions recorded on the Police National Computer (PNC) as a result of an MOU with the Association of Chief Police Officers Criminal Records Office (ACRO).
All those convicted either have or will have their DNA, fingerprints, photographs and antecedents taken by police.