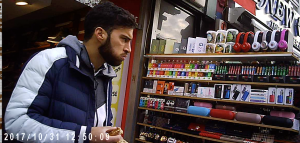 Hasib Ullah AMIRI appeared at Westminster Magistrates Court on 7th March 2018, charged with three (3) offences of selling counterfeit goods contrary to Section 92 of The Trademarks act 1994. He pleaded guilty to all matters. He was sentenced to a 12 Month Community Order with a requirement to undertake 60 hours unpaid work. He was also required to pay a Victims Surcharge of £30.00.
The case was brought by TM Eye as a private criminal prosecution on behalf of its clients Apple and another well known luxury brand.
AMIRI operated from a shop premises called DESTINY at 212 Camden High Road, London, N1. He sold fake Apple and other luxury branded goods.
Covert test purchases were undertaken on 31 October 2017 and 15 November 2017 from AMIRI at the premises. They were each covertly recorded on film and formed the evidence that resulted in the prosecution and conviction.
AMIRI now has a criminal record, with the conviction being recorded on the Police National Computer. He will have his fingerprints, DNA and photograph taken in due course to be kept on police indices. If he re-offends he will likely receive a custodial sentence.