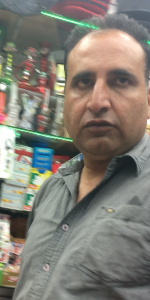 Rasram MENJAL of North Circular Road, London, NW 2, appeared at Willedsden Magistrates Court on 27 March 2018, charged with three offences of selling counterfeit goods contrary to section 92 of The Trademarks Act 1994. He pleaded guilty to all matters. He was sentenced to a fine of £480 and ordered to pay £1,000 costs and a victims surcharge of £30. The court ordered that all goods seized were to be forfeited and destroyed.
The case was brought by TM Eye as a private criminal prosecution on behalf of its client Apple and another well known luxury goods brand.
MENJAL operated a criminal enterprise from shop premises at 236 High Road, Camden, London. He sold a wide variety of fake goods from the premises. Between 24 August 2017 and 23 November 2017, TM Eye mounted a pro active operation and carried out three covert test purchases which were all filmed,
MENJAL will now be required to have his fingerprints and DNA taken by police. He now has a criminal record and should he re offend risks a custodial sentence.