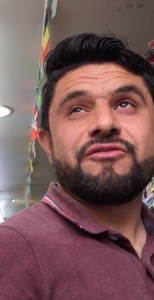 FEROZ KHAN from Channel Close, Hounslow, TW5 0PJ, appeared at Highbury Corner Magistrates Court on Friday 19 July 2017, charged with five (5) offences of selling counterfeit goods contrary to Section 92 of the Trademarks Act 1994. He pleaded guilty to all matters. He was sentenced to a 12 month Community Order with requirement to complete 40 hours of unpaid work for each of the first four charges, totalling 160 hours. He was also required to pay a Victims Surcharge of £30.00. The court granted a forfeiture and a destruction order for all goods seized.
The case was brought by TM Eye as a private criminal prosecution on behalf of its clients Apple Inc and Louis Vuitton Malletier.
The case follows a 2-month covert investigation by TM Eye detectives as part of Operation Prefix targeting illicit traders in and around the Camden market area. FEROZ KHAN operated from shop premises at 220 High Road, Camden. He sold a wide variety of fake goods from the premises. TM Eye undertook covert test purchases of a 'Beats Pill' speaker on 9th May 2017, a further 'Beats Pill' speaker on 12th May 2017 and a Louis Vuitton belt on 12th May 2017. On 16th May 2017, TM Eye undercover operatives purchased a Louis Vuitton bag from KHAN at the premises. As a result of joint action with Camden Police KHAN was arrested in relation to other matters and remains on bail for them.
TM Eye Director David Mckelvey said,"Operation Prefix has seen outstanding results and has had a dramatic impact on the open sale of fake goods in Camden that damage our clients brands. The shops operating in and around Camden market selling counterfeit goods are committing serious crimes for which those convicted can go to prison for up to 10 years. TM Eye will robustly enforce the law to 'catch and convict' the organised criminals involved. We will also seek to confiscate their assets through the use of The Proceeds of Crime Act.
There are a number of further prosecutions in the court system for those who trade in illicit goods at Camden and TM Eye will continue to target those who break the law.
KHAN will now have a conviction recorded on the police national computer and have his fingerprints, photograph and DNA taken.
TM Eye has convicted over 35 criminals as part of Operation PREFIX selling fake goods in the Camden market area. TM Eye does not simply seize fake goods from illicit traders allowing them to re stock and continue their illicit trade. TM Eye always prosecutes on behalf of its clients in order to reduce offending and bring consequences to those criminals involved. All goods seized are lawfully seized and destroyed on the order of a court".